You understand a recreation's hardcore once you've seen a magical nuclear apocalypse earlier than you've got even reached the tutorial. On the earth of The Final Spell (opens in new tab), arcane warfare has gotten so out of hand that the world has been left a wasteland, and its heroes have determined there's just one factor to do: destroy magic perpetually with, you guessed it, one final spell.
That is simpler stated than accomplished, in fact, in no small half as a result of at evening, hordes of magically irradiated monsters shamble out of the darkness desirous to tear down your makeshift fort and cease your ritual.
(opens in new tab)
By day, you construct up your settlement—putting buildings and defences similar to partitions and turrets, and equipping your small squad of heroes. Nights play out as a turn-based battle towards waves of enemies, your heroes utilizing their assaults and particular talents to carry again the tide till morning. If the monsters breach your defences and destroy your ritual circle, you lose, however for those who can survive you are rewarded with sources on your camp and stage ups on your heroes to spend forward of the subsequent assault. Maintain going for sufficient nights and also you get to face off towards a closing boss encounter.
I might describe my default state of being taking part in The Final Spell as "overwhelmed". The sport delights in throwing big numbers of enemies at you, and splitting your consideration throughout a number of fronts—a frightening prospect contemplating you begin every map with solely three heroes, and thus far I've solely been in a position to get to 4 max. 
However by pitting the percentages thus far towards you, the sport reaches an exquisite strategic candy spot. With so many enemies on display, you are compelled to profit from each flip, and a artistic and various suite of hero talents make that an enticing puzzle to determine. Whenever you do flip again the horde, you are feeling like a genius. Normally a sweaty genius with loads of picket partitions to restore.
Every hero's powers are decided by their geared up weapon, modified by the stats and perks chosen as you stage them up—and you may give them two weapon units to swap between in battle. A hammer, for instance, grants a hearty single-target slam, an AoE strike that may hit two enemies in a line for those who're positioned proper, and a floor pound that stuns everybody round you in alternate for some valuable, restricted mana. Admittedly these talents look suspiciously like that magic we're making an attempt to stamp out—particularly the spellbooks that allow you to throw fireballs—however a little bit hypocrisy is a small value to pay for cool assaults.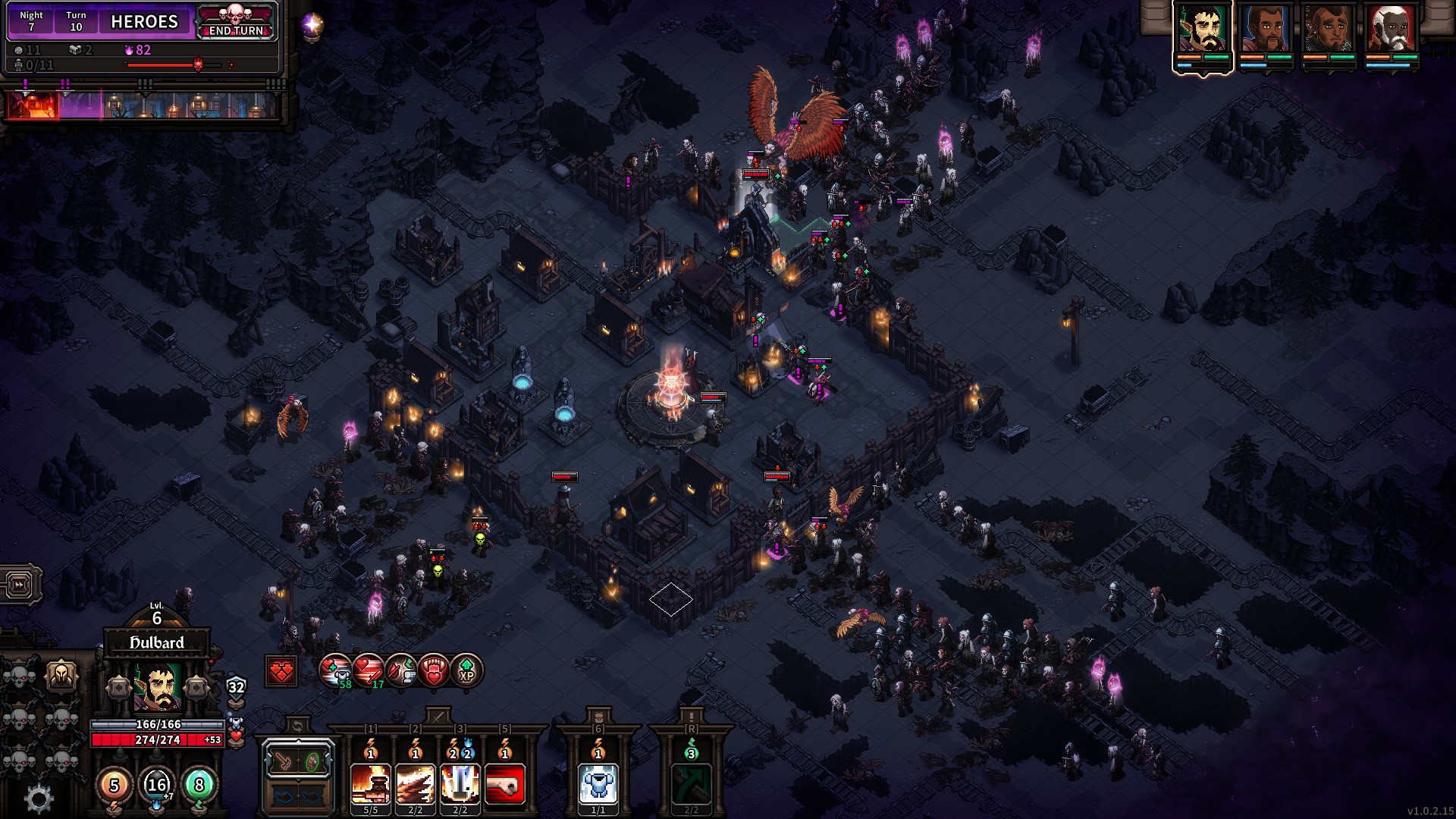 (opens in new tab)
There is a rock-paper-scissors component to those assaults—that hammer slam is unblockable, for instance, making it a fantastic counter to shield-bearing enemies, whereas a hand crossbow can throw out armour-piercing assaults efficient towards in any other case daunting armoured foes. Actually dive into the online of attainable synergies and interactions, nonetheless, and you may go far past these easy counters into wild and fantastic builds. My blackpowder-loving favorite Fara positive aspects injury primarily based on how far she strikes in a flip because of her excessive Momentum stat—after softening up a bunch of enemies with a grapeshot blast, she grapple hooks between them delivering the killing blows, build up her injury buff till she will unleash a pistol shot that makes use of up all her collected Momentum in a single devastating hit to take out a key foe. 
I am just a few hours in, however I am having a blast thus far—the mixture of roguelike, turn-based technique, and tower defence is a potent soup, and the day-night circle is completely pitched to maintain you coming again. "I am going to simply do yet another evening," I inform myself futilely because the clock winds on.
Runs do go a bit lengthy in comparison with what I normally like from a roguelike—a map looks as if it might probably simply take two hours to finish, and although you'll be able to freely save and give up midway by, it does really feel like a giant time funding, particularly contemplating how brutal the boss fights may be on the finish of all of it. However at the very least each run earns you numerous unlocks—buffs, buildings, weapons, and extra—that up the range and provide you with a lift on your subsequent try, so it is by no means wasted time even when issues go horribly incorrect. 
Freshly launched out of Early Entry, The Final Spell is out there now on Steam (opens in new tab).